Bruce Temkin, in a recent blog entry entitled "What is Loyalty? And is it Dead?" defines loyalty as 'the willingness to consider, trust, and forgive.' The psyche of consumer loyalty applies true across all verticals, however certain industries will drive escalated degrees of loyalty in different touch points across a varied timeline, i.e. the contact center is a higher driver of loyalty on the macro level in the telecom environment than a retail chain. That's not to say that the contact center cannot be a strong driver of loyalty in the retail environment - a great experience over the phone can dowonders for loyalty-d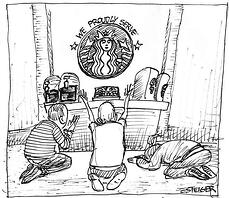 riving - however the basis for consumer loyalty relies more on the in-store experience and the product since more consumers are making judgements on these factors. I am loyal to Starbucks because they provide me the same cup of coffee in Boston as they do in London, because the in-store experience will be consistent, and because I know they will deliver it efficiently with a smile on their face. Due to an iOS Mobile Passbook issue, I did have to call Starbucks recently. I was on hold for half an hour and the CSR took about twenty minutes to resolve my problem. However, I am such a sucker for Starbucks and I know I don't have to contact the company all too often, and that it won't affect my next cup of coffee, that it had pretty much no effect on my loyalty to the company.

How about my telecom provider to which I hold no loyalty? My cable and internet have always worked and I've never had a problem with the product. However, I have had billing and moving issues in the past that have led me to their contact center. Their awful, awful contact center. Because I have had such painful experiences with their contact center, it has driven my loyalty to said cable company significantly downward. If they were great experiences, I'm sure it would be the reciprocal effect.

I'm making this delineation to better support my claim that an IVR or Virtual Assistant can have an impact on customer loyalty. If your contact center plays a large role in your customer's perception of your brand, the experience must be flawless. In automation, this means efficiency - as defined as the combination of ease of use and speed. If you're using traditional IVR, the saying goes, "the best IVR is the one the caller doesn't remember" and I abide by that. If you're using more advanced technology,such as Virtual Assistant applications, you have a greater opportunity to impress callers with sophisticated, brand-reflecting automation that can enhance the sales or customer care experience.

If you make the automated experience seamless, callers will be more willing to purchase, will trust your company, and if your caller is frustrated, the automated part of the call won't increase their frustration levels, as it often does.

For more information on how Hyatt is using Virtual Assistant technology to boost reservation sales and reduce operating costs by 33% per call, download our new whitepaper, "IVRs Take on New Tasks."